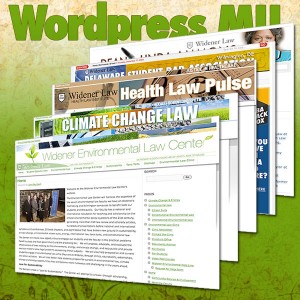 WordPress MU has become an indispensable tool for  building out vanity and other stand alone sites outside of the established .NET/ASP Content Management System (CMS) used for our main site.
I have been able to implement   a variety of sites, from simple to complex, thanks, in part, to the availablity of free plug-ins that allow implementation of some very sophisticated behavior.
To date, the number of WordPress MU sites I have deployed is close to 30 close to 60 … and more are in the queue. [info updated on 02/04/2010]
I have been able to accomodate the blogging/publishing requests made by professors, admissions counselors, groups of faculty blogging under one roof, members of the student body, libraries on two campuses, and even the Dean of the school. The potential to build out sites in WPMU is (almost) limitless.
If you are looking to implement a solution that is sustainable, growable, and easty to manage, I would strongly recommend taking a look at a WordPress MU implementation.