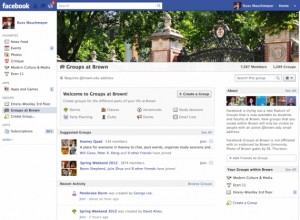 Back in December TechCrunch reported that Brown and Vanderbilt are testing new features for users with authenticated .edu email addresses to create groups for students at their universities. Facebook is considering rolling it out to other universities so that students can create groups for dorms, classes, clubs, parties, and other entities.
Only students who have used their .edu email addresses from schools that are part of Facebook's test will receive notification of the new feature.
Students that have registered with Facebook their .edu email address of a school in the test bed will see be alerted to the feature. Once they've authenticated their email address, they'll be able to create Groups with the same open, closed, or secret settings as the standard Groups feature Facebook launched last year, but no one outside their school will be able to see them. Within their Groups at [University] home page they can invite schoolmates to the feature, and view suggestions of Groups to join and a feed of recent open Group activity.

Brown and Vanderbilt were chosen because they use different email addresses for students vs alumni. Only those with current student addresses can gain access, which keeps sketchy recent grads from crashing the party.