I pursue my coding life in much the same way I tackle my bike racing life: "You have to be willing to put it all on the line for the win!" How did I journey here, to this point in my career?
Years ago I volunteered to build a site for my non-profit cycling team. I did it because I wanted the challenge: I was not a coder, nor did I know HTML or CSS. Humbly equipped with just a rudimentary text editor, I taught myself HTML,CSS and a bit of JS; I have never looked back!
Since those bare-bones beginnings, I have designed, coded and launched many websites. For the entirety of my adult life I have juggled working full-time as a front end developer while racing full-time as an elite national-caliber athlete. The time commitments for both were demanding.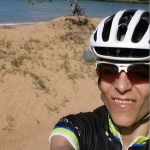 However, I did so because I was not willing to give up either of my two passions and pursued them both relentlessly. In the process, I Â picked up a few State and National medals along the way, both here in the U.S. and back home in Puerto Rico. I bring that drive and ambition to my work. In web development, I love the satisfaction of building something new and challenging, and especially when it combines both creativity and coding. These challenges require that I be a lifelong student; in that respect, I consider myself lucky. There is an adrenaline rush that comes with learning and mastering something new and difficult.
And so my journey takes me to early 2013 when I tackled learning Ruby on Rails, SASS, responsive design, media queries, and a few other skills that are integral to my developer toolbox. Later in the year, I stepped into eCommerce front-end development within .NET, Ruby on Rails, a sprinkling of Cold Fusion, within the MVC framework, while collaborating via Git and SVN.
I bring this drive and ambition to my front-end work at an organization; I do so with a sense of humor, a dose of humility, and a willingness to admit my mistakes and then make them right. I bring an honest disposition for mentoring and being mentored. The perfect work environment recipe combines the technical aspect with other ingredients such as a human connection, a bit of laughter and (yes, sometimes blood sweat and tears!), tons of hard work towards successful results.
(Get a peek at my bike racing life here)