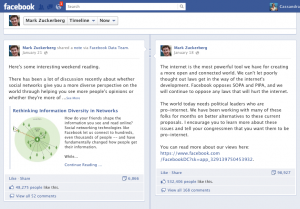 Facebook is as Facebook does: and Facebook just DID force the Timeline on all it's users (Here is the January 24 Facebook blog update). If you have not logged  into your Facebook account for a while, you will notice some big changes. Facebook describes the new Timeline as a chronology of a users life from birth to present day. It has also published a guide to understanding the new layout.
The Associated Press has offered some tips:
You'll have a week to curate the Timeline by moving stuff around, hiding photos or featuring them more prominently on your page.

Some things to consider:

— You can change privacy settings on individual items to control who has access. You might want to narrow embarrassing photos to your closest friends or delete some posts completely, or at least hide them so only you can see them.

— You can change the date on a post. For example, if you took a few months to post photos from a trip to Portugal, you can move them to appear with other posts from the time you took that trip. You can also add where you were, retroactively using a location feature that Facebook hadn't offered until recently.

— For major events in your life, you can click on a star to feature them more prominently. You can hide the posts you'd rather not showcase.

— Besides your traditional profile photo — your headshot — you can add what Facebook calls a cover photo. It's the image that will splash across the top and can be a dog, a hobby or anything else that reflects who you are. Keep in mind the dimensions are more like a movie screen than a traditional photo, so a close-up portrait of your face won't work well, but one of you lying horizontally will. But you don't even have to be in it.

— You can add things before you joined Facebook, back to when you were born. Life events can include when you broke your arm and whom you were with then, or when you spoke your first word or got a tattoo. You can add photos from childhood or high school as well.

— If you feel overwhelmed with so many posts to go through, start with your older ones. Those are the ones you'd need to be most careful about because you had reason to believe only a few friends would see them.

— Click on Activity Log to see all of your posts at a glance and make changes to them one by one. Open Facebook in a new browser tab first, though. That way, you can have one tab for the log and the other for the main Timeline.