May
9
I am honored to be able to participate in the first-of-its-kind 4-month long Ruby on Rails Apprenticeship Program sponsored by the Philadelphia chapter of Girl Develop It! and Brian McElaney of Tamman Technologies, Inc. in Philadelphia. I am one of four women given an opportunity to expand our knowledge of both sides of web application development: Server-side and Client-side using Ruby on Rails. The apprenticeship program will include a mentoring component, weekly meetings, email discussion, guest lectures and presentations by local technologists, as well as a group blog for the four partcipants  to share ideas, thoughts and lessons-learned as the apprenticeship progresses. We will be working on individual as well as a group project.
May
8
UPDATE MAY 9, 2013: To date, I have raised over $3000 for this incredible cause! I HAVE HAD AN INCREDIBLE RESPONSE FROM FRIENDS AND FAMILY! THANK YOU! I still have a few more days to get some funds in, but I am inspired to keep raising funds until our fundraising pages shut down! This process has also fuel my desire to find, and perhaps develop,  an easier solution that hours of 'googling' in finding charity and fundraising rides on the web. Currently, there is no one single place to go for an easy search by state or date. I am hoping I can use my apprenticeship and technology skills to come up with a better solution….keep you posted!
PREVIOUSLY POSTED:
This June,  I am part of a group of Habitat for Humanity believers and we will be riding  our bikes from Philadelphia to Harrisburg over 4 days to raise awareness about the need for affordable housing for all. As part of this initiative, we are also raising funds via our own fundraising  pages ( here is mine with my story of why this means so much to me http://www.habitatphiladelphia.org/cassandra-kings-fundraising-page my goal is to raise over $2500 before the end of this month of April 2013 ). It is really incredible because for every $100 we each  are able to raise we can give someone one square foot of housing. the more we raise, the more families we can help!!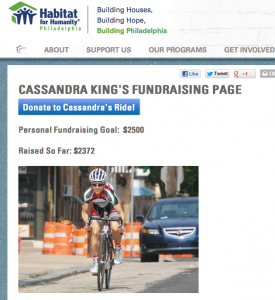 This two-wheeled adventure, although really challenging, will  go a long way towards making some headway (we hope) towards improving the lives of lower income South Philadelphians. In South Philly alone, there are four new Habitat houses that were finished in early 2012 on Latona street between 22nd and 23rd streets. All four houses have been purchased by low-income, hard-working Philly families (three of the families are single moms). The fourth family has a daughter who is 18 and wheelchair-bound, with severe mobility limitations. the house that Habitat built (and that the family bought) is designed to be fully accessible with a wheelchair, with special fixtures and a bedroom/full bathroom on the first floor to give the daughter far more independence than she had before to move on her own.
After all four houses were purchased, the kids from the families (all around the same ages, about 5 to 10 years old) formed a play group and are often seen riding their bikes up and down their newly-adopted block


this is such an incredible cause that we are all willing to ride all the way to Harrisburg, by bike, and meet with legislators there on our last day to make the choir of our voices heard
Cass
Apr
30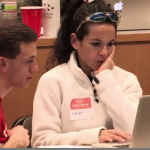 I had the privilege of spending a full Saturday on March 15th, 2013 at the inaugural Rails Girls Philly event. We got an great introduction to the Ruby on Rails Framework, got to use the tools (terminal, browser, text editor), worked toward creating an APP and had one-on-one coaching by a great group of techie Volunteers. As an attendee, I was inspired to be in a room full of other women with similar interest and with such strong desire to learn. The fact that the volunteer coaches gave up half of their weekend ( a full Saturday) to spend with us was really heart-warming and admirable. I don't have enough superlatives in my vocabulary to describe how incredibly useful and eye-opening a day this was. In the video posted below you can watch a number of attendees (myself included) offer their positive reviews of the event in some touching personal testimonials.

Additionally, we actually got an opportunity to do a Google+ Hangout with Rails Girls Frankfurt. While the ladies in Frankfurt were wrapping up their day, we were just getting started, but it was goosebumps all over knowing women on separate continents were working towards similar goals, on the same day! It was just, simply put, COOL!

Some additional resources for women seeking to learn new skills or simply polish existing tech skills
Rails Girls has chapters in many countries, a great place to search for Ruby on Rails events coming to your area.
Meetup is a great place to search for groups in you state/city and by interest (women + technology), GirlDevelopIT has many chapters in major cities and great regular events, eventbrite.com is another great calendar of events site that allows you to search by interest/location; and finally, the Anita Borg Institute site is full of helpful links and information.
Jan
25
Google just announced it's revamping of it's Privacy Policy:
Our new Privacy Policy makes clear that, if you're signed in, we may combine information you've provided from one service with information from other services," Google privacy director for products and engineering Alma Whitten  explained. "In short, we'll treat you as a single user across all our products, which will mean a simpler, more intuitive Google experience.
Google is combining 60 or so separate privacy policies into one global policy. It now offers ONE product as opposed to many disparate services. What this means for users is sharing of ALL google data and information across the board: and , NO, users cannot opt-out.
Sen. Richard Blumenthal (D-Conn.) is  troubled by the lack of an opt-out mechanism. "The lack of opt-out means users cannot pick and choose which data they want integrated into their Google profiles," he wrote. "Private email messages might contain any number of personal, embarrassing, or otherwise damaging information, and Google's attempts to amplify and contextualize this information through targeted ads, Maps suggestions, or Calendar reminders could have negative consequences for users."
Finally,Information week writes that the inclusion of Android smartphone data is most significant change in terms of user expectations.
Jan
25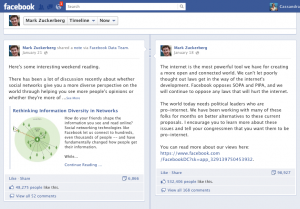 Facebook is as Facebook does: and Facebook just DID force the Timeline on all it's users (Here is the January 24 Facebook blog update). If you have not logged  into your Facebook account for a while, you will notice some big changes. Facebook describes the new Timeline as a chronology of a users life from birth to present day. It has also published a guide to understanding the new layout.
The Associated Press has offered some tips:
You'll have a week to curate the Timeline by moving stuff around, hiding photos or featuring them more prominently on your page.

Some things to consider:

— You can change privacy settings on individual items to control who has access. You might want to narrow embarrassing photos to your closest friends or delete some posts completely, or at least hide them so only you can see them.

— You can change the date on a post. For example, if you took a few months to post photos from a trip to Portugal, you can move them to appear with other posts from the time you took that trip. You can also add where you were, retroactively using a location feature that Facebook hadn't offered until recently.

— For major events in your life, you can click on a star to feature them more prominently. You can hide the posts you'd rather not showcase.

— Besides your traditional profile photo — your headshot — you can add what Facebook calls a cover photo. It's the image that will splash across the top and can be a dog, a hobby or anything else that reflects who you are. Keep in mind the dimensions are more like a movie screen than a traditional photo, so a close-up portrait of your face won't work well, but one of you lying horizontally will. But you don't even have to be in it.

— You can add things before you joined Facebook, back to when you were born. Life events can include when you broke your arm and whom you were with then, or when you spoke your first word or got a tattoo. You can add photos from childhood or high school as well.

— If you feel overwhelmed with so many posts to go through, start with your older ones. Those are the ones you'd need to be most careful about because you had reason to believe only a few friends would see them.

— Click on Activity Log to see all of your posts at a glance and make changes to them one by one. Open Facebook in a new browser tab first, though. That way, you can have one tab for the log and the other for the main Timeline.
Jan
23
Many higher education institutions have come to rely on cloud services for everyday tasks. Personally, I use Dropbox almost daily to exchange files with my cross-campus colleagues; less frequently, I've also used Yousendit. However, with the recent demise of Megaupload, and the subsequent self-enforced neutering of FileSonic and uploaded.to ( they quickly limited their file-sharing services and are only allowing users to  retrieve  files they have personally uploaded), what is the future of cloud reliability? At issue was the silent and swift action by the government which took many of Megaupload's users by surprise. Many who did not have backups lost their files and data.
So, should we be using Cloud services? If so, how should we secure our files? and how do we secure our privacy if a cloud service DOES go down? where do our files go? We should be asking these questions and having conversations at an institutional level about backing up data and security.
Jan
20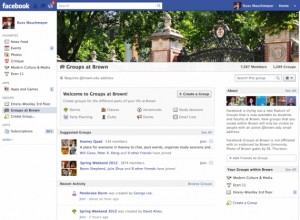 Back in December TechCrunch reported that Brown and Vanderbilt are testing new features for users with authenticated .edu email addresses to create groups for students at their universities. Facebook is considering rolling it out to other universities so that students can create groups for dorms, classes, clubs, parties, and other entities.
Only students who have used their .edu email addresses from schools that are part of Facebook's test will receive notification of the new feature.
Students that have registered with Facebook their .edu email address of a school in the test bed will see be alerted to the feature. Once they've authenticated their email address, they'll be able to create Groups with the same open, closed, or secret settings as the standard Groups feature Facebook launched last year, but no one outside their school will be able to see them. Within their Groups at [University] home page they can invite schoolmates to the feature, and view suggestions of Groups to join and a feed of recent open Group activity.

Brown and Vanderbilt were chosen because they use different email addresses for students vs alumni. Only those with current student addresses can gain access, which keeps sketchy recent grads from crashing the party.
Jan
20
With the recent events  of the internet SOPA blackout of January 19th in mind, this infographic from Socially Aware presents a Social Media law timeline that starts with 1984′s Sony v. Universal Studios -
Wikipedia reads:
Sony Corp. of America v. Universal City Studios, Inc., 464 U.S. 417 (1984),[1] also known as the "Betamax case", is a decision by the Supreme Court of the United States which ruled that the making of individual copies of complete television shows for purposes of time-shifting does not constitute copyright infringement, but is fair use.
It is worth noting that that in 1998, the Digital Millenium Copyright Act similarly protected sites relying on user-generated content.
Jan
20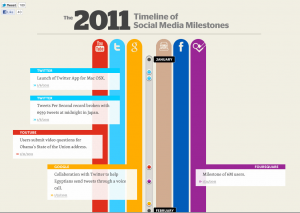 In their 2011 Timeline of Social Media Milestones post the Barbarian group presents 65 of the most memorable milestones. How did your Higher Education Institution keep pace with the many lightningspeed changes in 2011?
Jan
19
Yesterday, Junuary 18, 2012, thousands of websites perticipated in a virtual anti-SOPA/PIPA sit-in: Google, Reddit, Wired, Craigslist, Wikipedia, WordPress, Mozilla, MoveOn.org, and O'Reilly to name a few. Widener University School of Law's Professor Tonya Evans joined the list of internet sites and created a teachable moment for her students:
She explains:
We're doing a law firm simulation in class where the students are divided into 5 law firms, maintaining their own websites and blogs and tracking intellectual property issues"